6 Black Women Finance Gurus That Will Help You Get Your Money Right
Michelle Singletary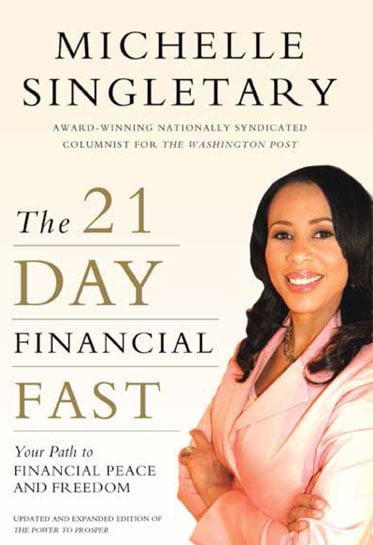 Michelle Singletary is a nationally syndicated columnist for The Washington Post. Her award-winning column, "The Color of Money," is carried in over 100 newspapers and provides insight into the world of personal finance. The column won Best in Business for a series that ran in 2007, received an award from the Society of American Business Editors and was even nominated for a Pulitzer just a year after its first appearance in The Post. She is the author of three books, "The 21 Day Financial Fast: Your Path to Financial Peace and Free," published by Zondervan, a HarperCollins company; "Spend Well, Live Rich: How to Live Well With the Money You Have" (Random House) and "Your Money and Your Man: How You and Prince Charming Can Spend Well and Live Rich" (Random House).
Tiffany Aliche
Tiffany aka "The Budgetnista", is America's favorite financial educator and often referred to as "The Black Suze Orman". She is a bestselling author, The One Week Budget (#1 Amazon) and the Live Richer Challenge (#1 Amazon), blogger, speaker and award-winning teacher of engaging financial education. You can learn more about her rates and services here. She also launched a FREE, online financial resource called, the LIVE RICHER Challenge. It's purpose is to help women achieve specific financial goals each year.  So far it's helped over 50,000 women in all 50 states and over 70 countries save millions dollars and pay off hundred's of thousands of dollars in debt. Did I mention that's it's free?! You can learn more here.
Tai McNeely
Tai McNeely is one half of the His and Her Money duo – detailing a journey two high school sweethearts, fell in love, got married, but were total opposites when it came to handling their finances.
One had debt and the other did not.
One made poor money decisions while the other made better money decisions.
One had a low credit score and the other had a stellar credit score.
The His & Her Money podcast, is aimed at helping married couples navigate their financial lives. The couple paid off more than $30,000 in debt together.
LaTasha Kinnard
Latasha Kinnard is the Chief Freedom Builder at Start Young Financial Group and the #1 Amazon bestselling author of 20-Something & Rich. Tasha began her career in corporate America where she managed $100 Million Budgets and led some of the biggest brand names in the world to higher profibility. Now, Tasha uses the skills she learned in corporate america to help her clients maximize their income and effectively build for the future. After starting her investing career at the age of 19, Tasha went on to grow her portfolio in the first five years at close to 20% annually and used that money to purchase her first real estate holding. She leads by example to show her clients that no matter what your background may be, financial freedom is possible. Going forward, Tasha plans to continue leading Millennials on their journey to achieve financial security, freedom, and abundance by promoting cutting edge strategies that are specific to the Millennial generation. Check out her offerings here.
Tarra Jackson
Tarra Jackson is a popular financial expert and animated keynote speaker. She inspires audiences across the country to healthier relationships with their finances. Tarra, aka "Madam Money", is ranked #3 on the Top Financial Experts to Follow on Twitter. Tarra has an extensive professional background and experience in the financial services industry ranging from Bank Training Manager, Bank Officer to Vice President of Lending, Executive Vice President and Interim President & CEO of several financial institutions across the country. Tarra not only provides financial education through workshops, webinars, and conferences, she a is Financial Consultant and Licensed Life Insurance Agent for individuals and families, as well as a Business Start Up Strategistto help people start and grown their business.
Tonya Rapley
Tonya Rapley is a nationally recognized millennial money expert and creator of the award winning site, My Fab Finance. In 2014 she was deemed the "New Face of Wealth Building" by Black Enterprise Magazine and featured as their cover subject.  Tonya's mission is to help millennials break the cycle of living paycheck to paycheck so that they can become financially free and do more of what they love. She is the host and executive producer of the web-series Fab Finance with Tonya for Centric and the creator of the #BanishTheBalance challenge, a debt elimination challenge that helped over 4,000 participants pay off more than $200,000 of debt in sixty days.